TOP 10: Art in Central and Eastern Europe 2016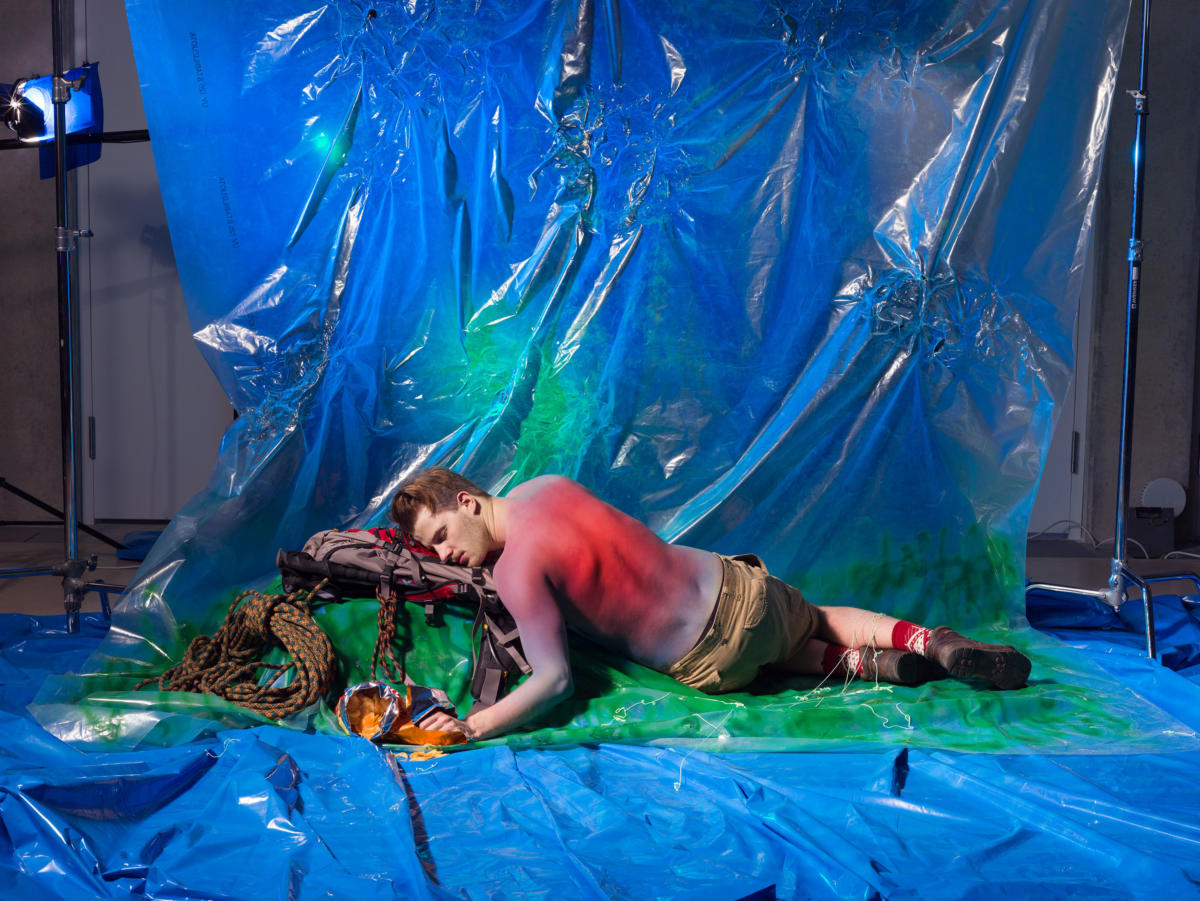 The most important events, exhibitions and artists from Central and Eastern Europe in 2016 in the choice of seven art critics and journalists.
       TOP 10 Belarus
Tania Arcimovič – art critic, editor-in-chief of"pARTisan" internet platform
1. Belarusian art movement
IZOLYATSIA Platform / Kiev
31.03.-06.05.2016
Curators: Andrei Dureiko, Maxim Tyminko
The exhibition ZBOR. Belarusian art movement (bel. zbor — collection) presents an overview of Belorussian contemporary art. It is a key event, which enables understanding of how Belarusian cultural space has transformed over the last 25 years. The exhibition includes over 200 exhibit items such as documentary photographs, scholarly essays, as well as original works by Belorussian artists, created between the 1980s and today.
2. Ruslan Vashkevich
The Victory over the Sun (opera)
The Viciebsk folk art school / Viciebsk
June, 21, 2016
With the performance The Victory over the Sun Belarusian artist Ruslan Vaskevich opened the renovated building of the Vitebsk folk art school, worked here from 1919 until 1923 under the direction of Marc Chagall, and later — Kazimir Malevich. In 1922 the UNOVIS was founded here. The performance is based on the controversial futuristic opera, set by Malevich and his students in 1923.
3. Karol Radziszewski (Poland)
QAI/BY
Ў Gallery of Contemporary / Minsk
07–02.08. 2016
Curatorial support: Lena Prents, Valentina Kiselyova
In co-operation with Sergei Shabohin and Alexey Lunev; furthermore: Zhanna Gladko, Igor Savchenko, Alesia Zhitkevich, Aleksey Naumchik.
The artist made an attempt to immerse in Belarusian oral history and to track down what is or could be thought as queer in Belarus from the past till now – as hidden and invisible issues. More information
4. A male Body
The Centre of Contemporary Art / Minsk
01.07. –30.07.2016
Curator: Dzina Danilovich
Artists: Mikhal Macku (Czech), Sergei Kozhemakin, Elena Protasevich, Igor Savchenko, Mikhail Badasian (Gernamy), Uladzimir Parfianok, Andrei Strokis (Latvia), Valery Vedrenko, Andrei Dubinin, Alexandr Mikhalkovich, Dzianis Ramaniuk, Pavel Osipov, Alena Haiduk, Jauhien Shadko, Alena Azhgirei, Dmitry Ragelm Viktor Sedykh, Jurka Dzivakou-Dusheuski, Dzina Danilovich
The artists present works about the evolution of the bodily canon and stereotypes of masculinity in the context of the history of art. They comprehend how a man is changing his perceptions of himself in the modern world using different methods of artistic representation of male nudity.
5. Siarhiej Hudzilin
KANDENSAT
CECH / Minsk
05.08-28.08.2016
The main topic of the exhibition is the Belarus that still remains terra incognito both for foreigners and Belarusians. The artist proposes his personal controversial point of the view on the country in the center of Europe.
6. Kaptaruny Art Village
July-August, 2016
Curators: Artur Klinau, Tania Arcimovich
This summer Kaptaruny Art-Village was officially opened by two art festivals (Chronotop art fest and The I International Open-Air Literary Festival «Kaptaruny»). Kaptaruny Art Village is a multicultural place for art festivals, residencies and educational programs situated at the very border between Belarus and Lithuania.
7. The III Month of Photography in Minsk
CECH art space / Minsk
09.09-09.11.2016
Curator of the festival: Andrei Liankievich
This year's topic is the opposition between the centre and the periphery. There were 7 avenues in Minsk and Brest and exhibitions of foreign and Belarusian photographers, including such famous projects as Sochi Project by Rob Hornstra, Stand BY by the Polish photo collective «SPUTNIK», Fables of Change by the group of contemporary Australian photographers (Hoda Afshar, Оwen Leong, Simon Harsent and Ray Cook).
8. The Specific Emotional: Between the Monument and the Ritual
KH art space / Brest
09–16.10.2016
Artists: Concrete Dates Collective (Kyiv), Anton Sarokin (Minsk), Olia Sosnovskaya (Minsk), Aliaxey Talstou (Minsk)
Curator: Aleksei Borisionok
The exhibition will cover the topic of the holiday, ritual and ceremonialism in a post-Soviet city, where the Soviet legacy and the restoration of a conservative ideology are closely intertwined.
9. 10 Artists' Workshops
Ў Gallery of Contemporary / Minsk
March-November, 2016
Artists: Olga Sazykina, Aleksei Lunev, Sergei Shabokhin, Zhanna Gladko, Antonina Slobodchikova, Mikhail Gulin, Maxim Tyminko, Anna Sokolova and Oleg Yushko, Viktoriya Mitrichenko, art-group Bouillion (Georgia)
The project consisted of 10 original programs from famous Belarusian artists (who also live abroad). Each program is developed by one of the artists and includes a six-day practical closed course and one public meeting with the artist.
10. Aliaxey Talsou vs The Centre of Contemporary Art in Minsk
October-December, 2016
On January 2016 Belarusian artist Aliaksei Talsou visited the store of The Centre of Contemporary Art and saw the database of the Centre's collection, which is closed to the public. He asked about the list of art works and their prizes but the administration refused him. Aliaksei Talsou brought a lawsuit against the Centre because according the law this information should be open, as the art works were bought using public money from the budget. On December 15th he got an answer from the court according to which he doesn't have a right to know this information. «I am a citizen of the Republic of Belarus and I just want to know who are the experts and how much money they use and for whom. From my point of view this information should be open» — say Aliaksei Talsou.
        TOP 10 CZECH REPUBLIC
Anežka Bartlová – art critic, editor of Art+Antiques Magazine
1. I much appreciate rise of discussions about and interest in feminism and related topics. This followed mainly in reaction to the piece of this year's winner of Jindřich Chalupecký Award (for Czech artists up to age 35) Matyáš Chochola and the debate around it. Chochola concerns the topic of new masculinism, unfortunately in a far too controversial way.
2. After a period of sporadic activity an artist group Rafani comes back on the stage. A series of videos for the exhibition project Intermarium (Prague, Budapest, Žilina, Nowy Sacz) as well as their "solo" exhibition in Fotograf Gallery, is a breeze of slightly fresher air into Czech calm weather…
3. A film titled Like in a movie by Tomáš Svoboda, more than an hour long, was finished this year. A self-reflective story with some humor is executed on a professional level and shows that it does not necessary need to look like Hito Steyerls' pieces (though I like hers too) to be a good piece of contemporary art.
4. I personally enjoyed a solo exhibition of Czech-Slovakian artist Anna Daučíková in FUTURA. This belongs to the gallery's project of giving space and voice to artists from the generation 50+ who are widely underrepresented in the domestic art scene. The fact that she will also participate in Documenta 2017 also pleased me.
5. End of the gallery and residence studios called Karlin Studios and art magazine Ateliér – two very different platforms highlight very similar changes which differentiate the structure of today's Prague art scene from yesterday's. Both were well known and somewhat established platforms for the communication of contemporary art basically raised from the similar DIY-flavored atmosphere. Today's post-capitalist conditions have starved those two to death.
6. The topic of art in public space and art-interventions in general has become a big topic on many levels of art-related as well as political discourse. There is also a law-novelization, scheduled to be confirmed soon, stating that 1% of public investments should go to art. Big thanks go to Spolek Skutek, the artist union based on the idea of solidarity and a platform for debate within and outside the art community.
7. If we think of success in terms of the number of audience members influenced as well as the reactions of non-insiders, then exhibition number one for this year was Perception (Vnímání, 2016) by an architect Jan Šépka. A seven-meters high barricade separates the fountain from rest of the square and connects it to the gallery space (now entered through the window). More than ten thousand visitors came to see it, while at another time just 1400 visitors viewed (e.g.) Tillmanns's show.
8. There was a great exhibition in Nevan Contempo Gallery by Lada Gažiová Džas bare dromeha / We're taking the long route which imagined how it would look if there was no gypsy-discrimination. A critique aimed at the system of art history canon based on a mixture of real and fake historical artifacts supposed to reflect both sides ("white Czechs" and Gypsies) equally.
9. Activity of and independent platform ARE – who organized some cooperation between Czech and foreign artists such as an ongoing exhibition of Lucy McKenzie and cooperation between Athens' (State of Concept, Kassandras) and Prague's (Polansky Gallery, Jelení Gallery, National Gallery) art scenes, which allows many artists to see Athens' art world before Documenta 14 arrives.
10. A remarkable exhibition, which goes deeper under my skin than I anticipated, was Anti-Nature vs Anti-Culture vs Anti-Future by Václav Magid at Drdova Gallery. In the form of video combined with quotations and wall applications that we know all too well from many contemporary art shows – this time the whole installation, as well as all the questions included, made me feel really alarmed.
TOP 10 CZECH REPUBLIC
Klára Peloušková – art critic, editor-in-chief of "Artalk.cz"
1. Jindřich Chalupecký Award for Matyáš Chochola. 
2. Věra Jirousová Award for art critics for Michal Novotný and Tereza Hrušková. 
3. Award from Jiří Surůvka for Anna Daučíková (an award from artists and theorists under 35 years for an artist over 35 years whom they find the most inspiring, it is a certain counterweight to the Jindřich Chalupecký Award which is for artists up to 35). 
4. It has been decided that PLATO, a contemporary art gallery in Ostrava, will become a city gallery, operated and funded directly by the municipality; the director will remain the same – Marek Pokorný. In 2017, the gallery will move to a new space in a former hobby market which is under reconstruction right now. 
5. The National Gallery in Prague celebrated its 220th anniversary. Jiří Fait, the director of the National Gallery, has decided about the future of Veletržní palác, the funcionalist building housing the modern and contemporary art collections at the moment. Veletržní palác will become the main seat of the gallery – all the administration, depositories, research, restoration lab and the library will be reunited there. At the beginning of 2017, there will be a competition for a thorough architectural reconstruction of the building so that the gallery meets international standards. 
6. The budget for culture for 2017 has been determined – it will be 0.96 % of the entire state budget (= 12,9 billion CZK, including expenditure for churches). It is the highest amount ever for the ministery of culture. The government planned to reach 1 % of the state budget for culture (not including church expenditure) within the election period that ends in autumn 2017. The salaries of the state employees in the filed of culture should rise (the average this year was 26.079 CZK, while in 2017 it is supposed to be 28.329 CZK). 
7. Big retrospectives of Czech artists: Jan Merta in Gallery of the City of Prague, Jiří Černický in Rudolfinum.
8. Contemporary art group exhibition: Apocalypse Me in Galerie Emila Filly in Ústí nad Labem.
9. Contemporary art group exhibition: Against Nature at the National Gallery in Prague.
10. Art in public space: the intervention of architect Jan Šépka at the main square in České Budějovice.
TOP 10 HUNGARY
Barnabás Bencsik – curator, former director of Ludwig Museum in Budapest
In the Hungarian contemporary art scene 2016 was at the same time a year of apathetic and weary surrender in the culture war for the independent, grass-roots organizations struggling to survive in the midst of the ideologically and politically indoctrinated public funding system, and a year of significant financial and professional success for some of the most active private galleries and artists mostly from the neo-avant-garde generations. In this selection I try to highlight some of the most important and relevant events to underpin my subjective report on the year just gone by.
1. The PATRON Contemporary Art Fair organized by the Studio of Young Artists' Association (FKSE), already the 6th edition this year. This is a kind of fund-raising event based on the shared income between the artists and the organization to provide a basic budget covering the running costs of this independent association. Dozens of collectors used to get this unique opportunity to buy new works from the up-and-coming artists for a reasonable price and providing charity support for the organization at the same time. It was crucial especially this year, since the FKSE was among the few organizations who publicly announced application of a boycott against the National Cultural Fund which was completely overtaken by the Hungarian Academy of Arts (MMA) to secure ideological control over the supporting policy of the main public funding body for culture.
2. Our Heart Is a Foreign Country – Friendship as an alternative in a normal world, curated by the young curators Gyula Muskovics and Andrea Soós. This group show with international shooting stars like Elmgreen & Dragset, Ryan Trecartin and the lesser known Karol Radziszewski and Lilla Szász is the first significant and brave attempt to introduce sensitive LGBTQ issues and discourse of queer politics into the Hungarian art scene. The show was held in Studio Gallery and supported and funded by transit.hu, the most established (the financial stability is provided by Erste Stiftung, Vienna) and active independent, critical platform for the contemporary art scene, especially focused on socially engaged and politically active artistic practices. transit.hu runs blogs with local and regional scope, wide international activities and intense research-based curatorial practice too. Just to mention one of these: The Creativity Exercises – Spaces of Emancipatory Pedagogies shown this summer at the Museum of Modern Art in Warsaw.
3. Future's Dialect. Róza El-Hassan /Martha Rosler – a dual exhibit in Kunstraum Riehen in the outskirt of Basel, in an ambitious exhibition venue just next to the garden of the celebrated private collection of the Beyeler Foundation. During the busy days of Art Basel, Kunstraum provided a cross-generational exhibition confronting the seminal early works of Martha Rosler, the protagonist of art activism from New York, joined together with the recent installations, sculptures and drawings of Róza El-Hassan, who is representing a strong, coherent and dedicated artistic position for the sake of the victims of the civil war in Syria. The Syrian-Hungarian artist is speaking out for the human rights of war refugees and seeking for sustainable solution to remedy the ecological and humanitarian catastrophe based on social solidarity.
4. Katalin Ladik: The Voice of a Woman at acb Gallery, Budapest. Katalin Ladik, Hungarian artist and poet, was born in the former Yugoslavia and she is the most radical performer of sound poetry of her neo-avant-garde generation. The show in this private commercial gallery provided a dense selection of her works from the late 60's until the mid-80's and through a wide variety of media represented her commitment to explore the basic topics of feminism, the woman's role and the physical presence of the naked female body. It seems that Ladik is one of the greatest rediscoveries of recent years from among artists who are considered as neo-avant-garde from Eastern-Europe, and she could have an even more promising next year since she was already invited in April to make a performance as part of the Documenta 14 public program "Learning from Athens". So, let's stay tuned!
5. Dóra Maurer: 6 out of 5 at White Cube, London is the first major solo exhibition of the renowned Hungarian artist Dóra Maurer, who started to be rediscovered by the global art word after 2011 with the 12th Istanbul Biennial where her iconic conceptual piece the spiral self-portrait entitled Seven Rotations 1 – 6 was the lead image of the event. Since then the full body of her works from the late 60's and 70's, including conceptual print and photo series, experimental moving images and paintings, were purchased by such leading museums as MoMa, Tate and Pompidou, but her huge scale, colorful painting installations from the last decade, playing with transparency and geometrical rules, which were on display at White Cube, until now have not been as well appreciated as they deserve.
6. Exercise in Autonomy. Tamás Kaszás featuring Anikó Loránt at ms¹, Museum Sztuki, Łódź. After an experimental video installation fused with an audio play shown in the spring at the kisterem commercial gallery in Budapest as a member of the artist duo Randomroutines, Tamás Kaszás has been invited to make his first major museum exhibition in Łódź. Unfortunately I had no chance to see the show, but I suppose it was of great importance that the scope of the museum programming started to embrace the most inspiring mid-generation artists from the Central-European region too.
7. BLOW-UPS – 1963. The Age of Jancsó's Cantata. An Exhibition of Art and History at the New Budapest Gallery. The scholarly-researched exhibition was conceived and curated by József Mélyi, one of the most active and innovative art historians and curators in the local scene, who through a series of exhibitions executed during recent years developed a very inspiring method to get a closer and more comprehensive look at art production and the cultural political climate of the post-war decades of Hungarian art. In this huge-scale survey show he investigated, using the famous movie of Miklós Jancsó, the intellectual climate of the post-revolution condition after 1956 in Budapest, with all the dilemmas of the Hungarian intelligentsia during the normalization process at the time, and offering obvious comparisons and references to the present cultural-political situation.
8. Drift, solo show from Tilo Schulz at Kassák Múzeum. The small museum dedicated to Lajos Kassák, the renowned protagonist of the Hungarian avant-garde and key figure of progressive modernism, became the most significant public institution of its kind in Budapest and provided the venue for the most interesting contemporary artistic positions which are inspired by the aesthetic and theoretical heritage of classical modernism. The painting installation of the Berlin-based artist Tilo Schulz subversively shifted the notion of painting into the space using a wooden frame structure resembling the "image architecture" of the late modernist master.
9. Péter Puklus: The Epic Love Story of a Warrior at the Robert Capa-Contemporary Photography Center, Budapest. Peter Puklus is one of the most successful photographers of his generation. He recently spent some months in New York hosted by Residency Unlimited and was shortlisted this year at The Paris Photo – Aperture Foundation PhotoBook Awards. In this chamber exhibition he showed a selection of photographs from his nominated book, representing his subtle visual language overloaded by art historical allusions and metaphors. The line of photos create a subjective and personal interpretation of our common past in the this geopolitical region.
10. Sotheby's auctions selling works from Hungarian-born artists. For the Hungarian art scene, which has been struggling for ages with its inferiority complex in relation to the global art industry, good sales on the international secondary market is always a kind of compensation. This year we heard great news in this regard: the top-price sale of Moholy Nagy for over 6 million dollars and new records for artists who emigrated to France in the post-war period like Simon Hantai and Judith Reigl. Encouraged by these results the auction house organized two auctions this year, focused on the Central-Eastern European region, to set the price also of living contemporary artists on the secondary market, but several experts have reservations about the real nature of this kind of transactions.
TOP 10 LATVIA
Santa Mičule – art critic, editor of the Echo Gone Wrong
1. Golf Clayderman is a performative project by young artists Margrieta Dreiblate (1991) and Aksels Bruks (1992). During the project's three events, the art gallery was turned into a beauty salon, a TV reality show and a lip-syncing song contest. By wittily stylising some of the codes of so-called "low culture", the artists have managed to create an original and aesthetically subversive performance format in which theatrical staging merges with improvisations involving the audience. A refined and sincere hooliganism that speaks ironically about the elitism and excessive seriousness of contemporary art.
2. Beautiful Mothers. Woman. Body. Subjectivity (Riga: Neputns, 2016) is a book about the female body in contemporary art written by art critic Jana Kukaine (1983) and is significant for several reasons. It is one of the very rare and excellent studies about processes in Latvian contemporary art, which usually do not receive in-depth analyses. Consequently, contemporary art in Latvia often remains without any theoretical reflection. Albeit with considerable delay, Beautiful Mothers is the first study based in feminist theory about art in Latvia. It will hopefully at long last stimulate the entry of modern art history research methods into the realm of Latvian cultural research.
3. The Open Fields Art Science Festival 2016 (organised by the RIXC art centre) is an annual event that introduces audiences to global-scale current events in this field and produces a feeling that events in Latvia can also be included and take part in international art processes. By involving various arts and science specialists from around the world and finding meeting points of art and modern technologies, the festival reveals the diverse possibilities of art as a research strategy and the growing limitlessness of these possibilities.
4. The Latvian National Museum of Art was reopened this May following a reconstruction that lasted several years, thereby making Latvia's most significant collection of art available to the public once again. The museum now also exhibits art from the second half of the 20th century that has never before been shown publicly. However, this new exhibition has not fulfilled expectations for original interpretations of the material; instead, its creators chose to follow a historical linearity and only repeated conventional narratives regarding what was important in that era, ignoring controversial unofficial and semi-official aspects of Soviet art history. The reconstructed museum nevertheless captured the interest of many people and at least for a time became a "stylish" destination in the city.
5. The 427 gallery (the name Four to Seven informs visitors of the gallery's opening hours) is a relatively new art space in Riga that can be considered the only experimental art institution in the city in which the content is not created in an effort to conform to current events in politics or culture or to the art market. Even though the institution's programme currently still lacks conceptual clarity and the "range of products" is inconsistent, the gallery is important to Latvian art in that it attempts to exhibit independent contemporary art…to the extent that such independence is possible in the present day.
6. The Riga Photography Biennial took place for the first time this year, giving rise to the first biennial-format event in Latvia. It proved that it is possible, despite having just been established, to offer a varied festival programme that carefully analyses the role of photography as an interdisciplinary medium in visual culture and also as an important instrument of contemporary art.
7. The artist Anda Lāce (1982) has previously gained recognition as an important representative of the so-called "new simplicity" style of painting in Latvian art. This year, however, she proved herself to also be an expressive performance artist – for some time she has been consistently developing performance as an independent type of art, instead of one that merely supplements other media. Lāce's performance Atindēšanās (Detoxification), which took place on a night in June, was a visually memorable presentation that generated a symbolically multi-layered and poetic aesthetic experience.
8. Although Kristaps Epners (1976) has been known in Latvian art circles for quite some time, it seems that this year he found the perfect visual form with which to depict the theme that interests him. His solo exhibition Vingrinājumi (Exercises) and his installation Logi (Windows) as a part of the group exhibition Contemporary Landscape in Cēsu Art Festival demonstrated a professional aestheticism of form and space and also mark him as the most interesting video artist in Latvia at the moment. Epners is able to skilfully synthesise audiovisual material with other media and turn his filmed observations into spatial experiences.
9. One of the most talked-about events of the year were the results of the competition for the design of the future Latvian Museum of Contemporary Art. Most of the art world is enthusiastic that the dream of a museum of contemporary art will finally be fulfilled (it will open in 2023), but the idea of such a museum is being instilled in society at large as a self-evident necessity. Even though the result will no doubt be anticipated and grandiose, it is currently being advertised as an essential ingredient of national cultural identity and an attractive tourist destination, while discussions about the actual content of the museum remain somewhere in the background.
10. Līga Spunde (1990) is one of the most interesting young artists in Latvia today, and she is gaining recognition in Latvia just as rapidly as abroad. On the one hand, her creative work to date has been typical of students of visual communications, namely, a conceptualism of visual forms (rather than content) that is oriented towards a self-expression of media. However, Līga Spunde has managed to find new means of expression that enliven the language of such art and introduce intriguing stories and moods to it. In October this year, she won a well-deserved jury award at the StartPoint Prize competition for European art graduates.
TOP 10 POLAND
Karolina Plinta – art critic, editor of "Szum" Magazine
1. Changes in culture and the hundredth anniversary of Polish avant-garde.
When the conservative party Law and Justice (Prawo i Sprawiedliwość) won the parliamentary election in 2015, everybody expected some changes in state cultural policy and they really came. Piotr Gliński, a sociologist, who also holds the position of President of the Council of Ministers, became the new Minister of Culture. Known for his conservative views on art, he proved them by attempting to censor the show "Death and the girl" directed by Ewelina Marcinak (based on novels by Elfrede Jelinek) in November 2015. At the beginning of 2016 the Ministry of Culture decided not to award grants for most arts institutions. The situation started to looks really problematic, but in the second part of the year the ministry softened its strategy: the most important art institutions received grants, and the Ministry in collaboration with the National Museum in Cracow, Muzeum Sztuki in Łódź and the National Museum in Warsaw announced 2017 as the Year of Avant-garde, because of the hundredth anniversary of the first avant-garde exhibition in Poland (it was an exhibition of Polish formists in Cracow in 1917). President of Poland Andrzej Duda became Jubilee patron and the official opening took place in the Presidential Palace, where an exhibition of formists paintings dedicated to religious themes was also opened. Almost every art institution in Poland is participating in the Year of Avant-garde, but for now it is obvious that the biggest beneficiary of this change in culture is the National Museum in Cracow, whose politic is very close to that preferred by the government (focusing on pride for polish identity and culture). That's the reason why for example the Ministry of Culture bought the Czartoryski art collection for an enormous price (100 million Euro) – it will be part of the NM collection. At the end of 2016 Ministry also bought the historic, neo-modernist building of the former hotel Cracovia for the Museum in Cracow. And what will happen in 2017 in the National Museum of Cracow? Probably you will not be surprised that one of the planned exhibition is about polish national heritage and is titled "#legacy" ("#dziedzictwo").
2. Wrocław as European Capital of Culture 2016. The prestigious title gave this city the opportunity to organize many cultural events, sometimes interesting, but usually dedicated to less demanding viewers. And besides that Wrocław politicians have done a lot of harm to local culture: they succeeded in destroying Teatr Polski, one of the most important theaters in Poland (Cezary Morawski, an actor best known from TV series became the new director of this institution) and Muzeum Współczesne Wrocław, whose former director and founder Dorota Monkiewicz was fired because of political conflict between her and town hall. And this is probably the end of the ambitious and critical activity of this institution.
3. A new wave in contemporary Polish dance. Thinking about what good happened in the arts last year, it's worth remembering about young dancers and choreographers (eg. Marta Ziółek, Mateusz Szymanówka, Przemek Kamiński, Iza Szostak, Ramona Nagabczyńska, Paweł Sakowicz), who really bring fresh air to Polish performance. Mostly interested in post-modern dance and educated in western academies (unfortunately in Poland we still don't have good dance schools), this year they prepared a lot of fantastic shows and projects, also in collaboration with art institutions and galleries.
4. Museum of Modern Art in Warsaw. The Polish MoMA put on some great exhibitions this year, but despite this still has problems gaining its own building. Since 2008, the museum used space in the furniture pavilion Emilia, but in mid-2016 finally had to leave the building (which is now demolished; on the place of this historic pavilion from the late modernism era will stand a skyscraper). Toward the end of the museum's activity in Emilia, there were three exhibitions: Bread and roses. Artist and The Class Divide, dealing with the problem of the role and status of the artist in the context of growing economic crisis, Making use. Life in postartistic times, focused on the fusion of art and everyday life, and Why we have wars. The art of Modern-Day Outsiders, presenting the art of amateur artists. The museum residency in Emilia was ended by the great performance expo zéro, prepared by Boris Charmatz and his companions. I will remember it for a long time.
5. Szalona Galeria (Crazy Gallery). Changes in cultural policy in Poland bring artist some problematic questions on how to behave in the current situation and the role of the artist in the context of growing conservatism in Poland. One of the most interesting responses to this question was given by Agnieszka Polska, Jakub de Barbao and Janek Simon, who decided to create a mobile art gallery. Inspired by the post-war project of Marian Minich, director of the Art Museum in Łódź from 1935 to 1965 who initiated a unique program of bringing reproductions of paintings to villages all over Poland, the creators of Szalona Galeria decided to make a tour of small Polish towns and villages in July and August, presenting the art of the most acclaimed Polish artists.
6. NOT FAIR during Warsaw Gallery Weekend. Warsaw Gallery Weekend is running from 2011 and it is one of the largest events of its kind in Central and Eastern Europe, but it is too focused on Polish artists. To make it more attractive to foreigners, NOT FAIR, an exhibition curated by Michał Woliński (Piktogram Gallery) was also organised during WGW. Woliński invited fourteen galleries from Germany, the Czech Republic, Romania, the Netherlands, Norway and Poland to participate in NOT FAIR, and the exhibition took place in the Palace of Culture and Science, Warsaw's architectural icon.
7. Exhibition prepared by children in the National Museum in Warsaw. Maybe it's surprising, but one of the art blockbusters this year in Poland was an exhibition prepared by children in the National Museum in Warsaw. Titled The "Anything Goes" Museum and coined by the Director of the National Museum in Warsaw, Agnieszka Morawińska, the exhibition features works from all the museum collections and was divided into six parts, each prepared by a separate team of child-curators (A Forest, Dance of the Minotaur, The Ghost Room, Playing the Hero, Treasure Trove and Changes).
8. Centrum Dialogu Przełomy in Szczecin
History Museums in Poland are a problematic issue; often institutions of this kind are dominated by pop-conservative narration, like in the Warsaw Uprising Museum. Centrum Dialogu Przełomy, which is part of the National Museum in Szczecin, is a pleasant exception to this rule. The museum building was designed by Polish star-architect Robert Konieczny, and this year won the first prize in the World Architecture Festival. Inside you can find the exhibition focusing on the post-war history of Szczecin, which also includes contemporary art (it is something exceptional in Poland).
9. Edward Krasiński solo exhibiton at Tate Liverpool. Edward Krasiński's first UK retrospective can be interpreted as the final step of his entry into the canon of art history. Parallel to his exhibition in Tate was opened also Yves Klein's show, to which critics have paid more attention, but nevertheless it was an interesting juxtaposition (Klein with his International Klein Blue and Krasiński with his Blue scotch).
10. The relationship between visual arts and music is nothing new in Polish art, but this year brought two interesting exhibitions dedicated to this topic. The first was 140 beats per minute. Rave culture and art in 1990s Poland, prepared by the Museum for Modern Art in Warsaw during Open'er Festival (curators: Łukasz Ronduda and Szymon Maliborski). The second was Notes from the Underground. Art and Alternative Music in Eastern Europe 1968-1994, which still continues in the Muzeum Sztuki in Łódz (curators: Daniel Muzyczuk and David Crowley).
TOP 10 UKRAINE
Oleksiy Radynski – filmmaker, essayist
1. Varta1, Lviv, Ukraine by Yuriy Hrytsyna. An hour-long experimental documentary that gained a cult following this year both in artistic and cinematic circles, winning awards at two major film festivals in Ukraine (Docudays and Odessa IFF). The film is based on online radio conversations between the activists of Auto-Maidan movement during the power vacuum in the wake of Ukrainian revolution in 2014. This is of the most striking uses of the potential of social media in cinema so far.
2. Politics of "de-communization", based on a barbaric law that effectively outlaws scores of monumental art pieces from the Soviet era on the basis that they"promote Communist ideology". Some of them are among the major highlights in the history of Ukrainian art. The local authorities are often reluctant to remove those art works from public space. In effect, the right-wing groups start to carry out "self-organized", ISIS-style destruction of monuments, statues, reliefs etc.
3. Ongoing imprisonment of Oleg Sentsov, a film director from Crimea who was (together with Aleksandr Kolchenko) kidnapped by the Russian secret services in 2014, stripped of his Ukrainian citizenship and given a 20-year jail term at a show trial in Russia. In 2016, Vladimir Putin rejected numerous calls to release Sentsov and Kolchenko.
4. DE-NE-DE, a grassroots artistic research group that emerged in the wake of "de-communization" hysteria, aiming to document, archive and, when possible, preserve the outstanding works of public monumental art in Ukraine, which are now threatened with destruction. Artists and activists involved in this group spent much of 2016 in field trips all over Ukraine, documenting the artworks from the Soviet era and engaging in negotiations with the local authorities.
5. Kazimir Malevich goes Ukrainian. The schizophrenic cultural policies of the Ukrainian state are best represented by increasing attempts to declare Kyiv-born Kazimir Malevich a great Ukrainian national artist, while attempting to erase all traces of his Communist worldview (in line with the de-communization policy mentioned above). Those attempts include, among many other things, interpretations of Black Square as an ultimate representation of chornozem, Ukrainian highly fertile black soil; the idea (so far unrealized) to rename Boryspil airport in Kyiv into Malevich airport; and a gift by Petro Poroshenko to Justin Trudeau of a Canadian flag produced "in the Suprematist style of Malevich".
6. Ilya Kabakov will not represent Ukraine at 2017 Venice Biennale. This might not be the major 2016 event per se, but the background to this story certainly is. For the first time this year, the Ministry of Culture declared that Ukrainian representation at the Venice Biennial should be organized through an open, democratic, and transparent process. As a result, the competition ended with the selection of Ilya Kabakov who most likely was not even aware of his participation, and resigned from representing Ukraine in Venice (although he's known as a founder of Moscow Conceptualism, Kabakov always stressed his Ukrainian descent).
7. New Ukrainian art finds its roots in the semi-official late-Soviet Ukrainian neo-avantgarde. Experimental filmmaker Felix Sobolev who created "the Kyiv school of scientific film" back in the 1960s has recently become a major source of inspiration for the artists. In the meantime, his extravagant contemporary Fedir Tetyanych is being reappropriated by critical artists, with one exhibition around his work created this year and two more forthcoming in 2017.
8. Dismissal of Vyacheslav Kyrylenko, notoriously nationalist minister of culture. His ultra-conservative views on culture proved to be too extreme even for the largely traditionalist cultural and political elites. However, the joy was short-lived – Kyrylenko now serves as vice-prime-minister on humanitarian issues, and his successor has discredited himself with racist statements.
9. The Tower, a new film installation by Hito Steyerl that was produced in Ukraine and deals with the relationship of virtual reality and military aggression. The film was premiered at this year's Berlin Biennale but so far went nearly unnoticed in Ukraine itself, despite being one of the most discerning artworks dealing with the war in Ukraine.
10. Change of directors in two major art institutions in Kyiv – National Art Museum of Ukraine and Arsenal. Characteristically, both competitions were lost by Natalia Zabolotna, the previous director of Arsenal who represented the wicked alliance between cultural institutions and political elites. A certain institutional era has ended.
Stopka
Zobacz też