"I saw the other side of the sun with you. Female Surrealists from Eastern Europe" w Cromwell Place w Londynie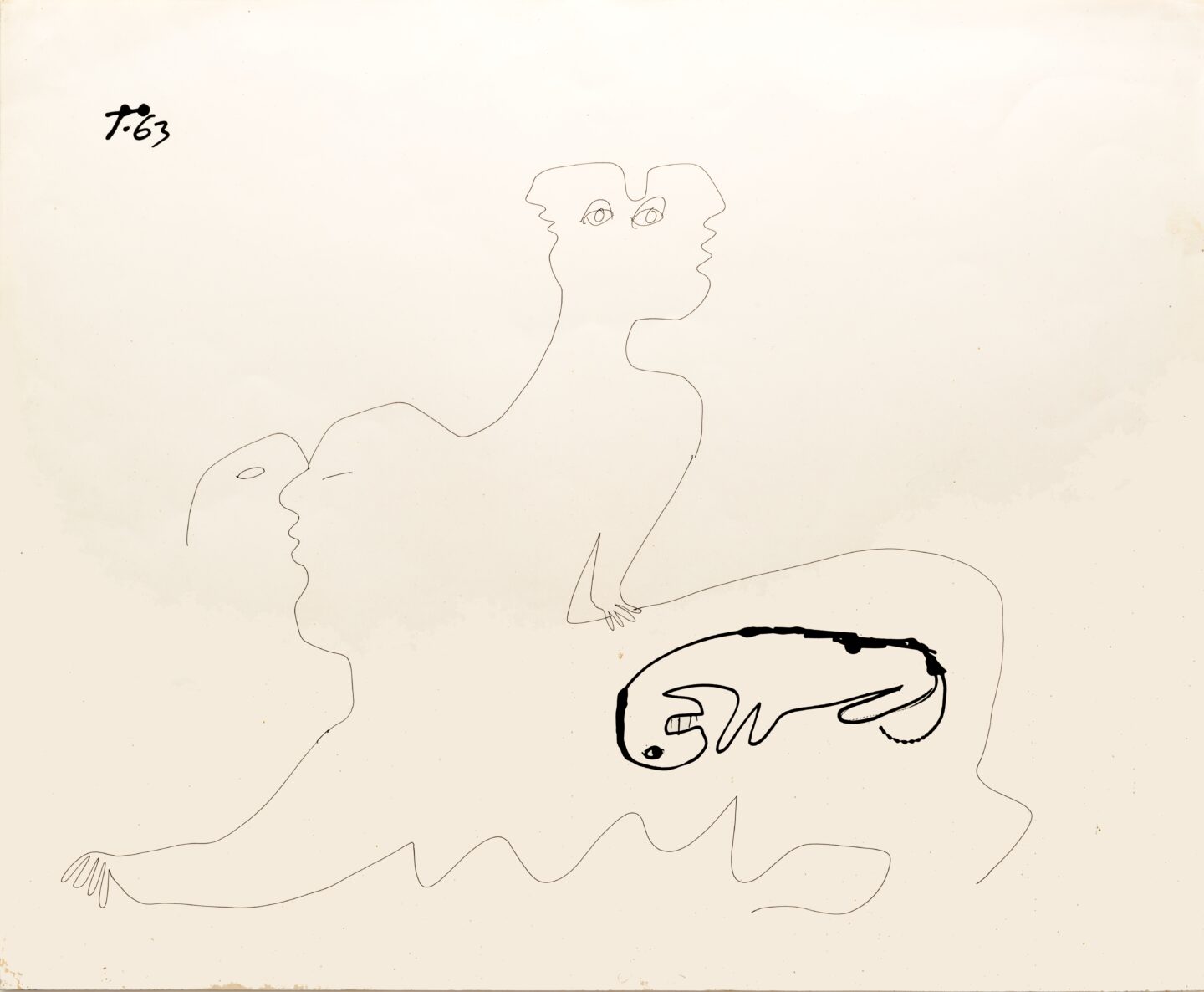 Commissioned and presented by European ArtEast Foundation, I saw the other side of the sun with you is the world's first exhibition dedicated exclusively to female Surrealists from Eastern Europe, with the majority of the participating artists being shown for the first time in the UK.
Charting the development of Surrealism from the 1930s to its present-day revival, this exhibition will present some of the most outstanding Surrealists from Poland, the former Czechoslovakia and the former Yugoslavia and will span painting, drawing, illustration, sculpture and video works as well as an assortment of archival materials.
A contested movement in the Eastern European avant-gardes, Surrealism evolved in highly original local varieties, with Czechoslovakia initially leading the charge in close alliance with artists in Paris, the centre of the movement.
The seminal artist Toyen (1902-1980) was a defining figure in this regard, leading the identification of the painter with the poet. The aesthetic connection between poetry and painting, particularly in the form of dream writing, was shared by the Polish Surrealists Erna Rosenstein (1913-2004) and Maria Anto (1936-2007). The title of the exhibition is taken from Anto's dream writing dating 1975 relating to her daughter Zuzia.
Polish-Jewish avant-garde painter, architect and montage artist Teresa Zarnower (1895/1897-1949) shared Toyen's deeply felt political concerns during the war-torn years. Traumatic experiences are prevalent in the works of Polish-Jewish artists and illustrators Franciszka Themerson (1907-1988) and Erna Rosenstein (1913-2004) and in the visceral sculptures of Czech artist Eva Kmentová (1928-1980) in the 1960s and 70s.
Toyen's trailblazing modern iconography of transgressive sexualities and haunting fantastical speculation finds recurrence in the corporeal post-war assemblage sculptures by Alina Szapozcnikow, and in the erotic paintings and illustrations of twin-sisters Alicja and Bożena Wahl (*1932, Alicja passed away in 2020) whose libertine self-expressions breathe the spirit of the sexual revolution set against the backdrop of 1970s Communist Poland.
The exhibition not only highlights the development of surrealism across Eastern European avant-gardes, but also acts as a reminder of women's unique contribution to the movement, specific to the region – from the psychologically charged architectural and urban structures of Anto to the apocalyptic landscapes of Zofia Rydet (1911-1997). Serbian painter Ljiljana Blazevska's (1944-2020) retro-modernist "poetic infantilism" was predated by Milena Pavlović-Barili's (1909-1945) paintings and fashion illustrations for American Vogue, placed in Medieval and Renaissance settings, fusing Surrealist iconography with high fashion.
Featuring over 50 works, the exhibition showcases the practice of contemporary female artists reinvested in a post-surrealist language alongside their historical counterparts.
Stanislava Kovalcikova (*1988) continues an important dissident female legacy by confronting abject, controversial themes diverging from popular morale and tastes in the medium of painting. Agata Slowak's (*1994) work focuses on topics related to gender and feminism and the role of ritual and magic as alternative forms of knowledge transfer and community-making among women, showing a conscious influence by first generation Surrealist Lenore Fini.
Joanna Woś (*1991) paintings share Słowak's and Kovalcikova's highly ambiguous narratives of non- normative sexual interplay. Her female protagonists are not shown as center-stage subjects immersed in dreamy scenarios of libidinal and moral conflict. Margo Litvinova (*1998) and Oleksandra Tsapko (*2002) round off the exhibition with their collaborative short film The Bee (2023), a surrealist exploration of the unbearable burden that every Ukrainian who was forced to flee their home with the outbreak of war experiences every day.
Exhibiting artists will include Maria Anto (Poland), Teresa Żarnower (Poland/New York), Erna Rosenstein (Poland), Alina Szapocznikow, (Poland/Paris), Zofia Rydet (Poland), Franciszka Themerson (Poland/UK), Alicja and Bożena Wahl (Poland), Eva Kmentová (Czech Republic), Toyen (Czech Republic), Ljiljana Blazevska (Serbia/Macedonia), Milena Pavlović-Barili (Serbia/New York), Stanislava Kovalcikova (Slovakia/Germany), Agata Słowak (Poland), Joanna Woś (Poland), Margo Litvinova (Ukraine), Oleksandra Tsapko (Ukraine).
Anke Kempkes, curator, says: "In the interwar period, women artists from Eastern Europe took on the language of Surrealism, developing radical and highly innovative visions about modern gender issues and sexualities. During the devastations of WWII, Surrealist expression provided women artists an outlet to process trauma. Choosing Surrealism in opposition to official programmes and doctrines prevalent in the region during the Communist era is testament to their artistic independence. This exhibition, a world first, showcases the pioneering aesthetic language they developed, creating a Surrealism all their own, and their undeniable impact on younger generations of artists. The exhibition highlights the transhistorical dimension of Surrealist language as a strong female lineage in Eastern European art history, still vital and newly relevant today."
Jonathan Tybel, Director of European ArtEast Foundation, says: "Bringing underrepresented artists from Eastern Europe to the fore has been one of our foundational and guiding principles since the establishment of the foundation in 2017. We're thrilled to present this exhibition of often marginalised or forgotten women artists to a London audience and to show their contribution to Surrealism from the 1930s to the present day and the region's burgeoning contemporary Surrealist art scene."
Stopka
| | |
| --- | --- |
| Artystka / Artysta | Maria Anto, Teresa Żarnower, Erna Rosenstein, Alina Szapocznikow, Zofia Rydet, Franciszka Themerson, Alicja and Bożena Wahl, Eva Kmentová, Toyen, Ljiljana Blazevska, Milena Pavlović-Barili, Stanislava Kovalcikova, Agata Slowak, Joanna Wos, Margo Litvinova, Oleksandra Tsapko |
| Wystawa | I saw the other side of the sun with you. Female Surrealists from Eastern Europe |
| Miejsce | European ArtEast Foundation, Cromwell Place |
| Czas trwania | 12 – 30.04.2023 |
| Kuratorka / Kurator | Anke Kempkes |
| Fotografie | Maja Tybel |
| Strona internetowa | cromwellplace.com/membership/european-arteast-foundation |
| Indeks | Agata Słowak Alicja and Bożena Wahl Alina Szapocznikow Anke Kempkes Cromwell Place Erna Rosenstein European ArtEast Foundation Eva Kmentová Franciszka Themerson Joanna Woś Ljiljana Blazevska Margo Litvinova Maria Anto Milena Pavlović-Barili Oleksandra Tsapko Stanislava Kovalcikova Teresa Żarnower Toyen Zofia Rydet |
Zobacz też